Ribbon cutting planned for 10 a.m. Monday at new Kelly's Kitchen location

Kelly plans to move over the weekend to the new location in the Sand Mountain Plaza. Please join us in commemorating the occasion with a ribbon cutting ceremony at 10 a.m. on Monday, March 20.
Reception honoring Alabama House Majority Leader Nathaniel Ledbetter is March 23

6 p.m. at the TBEC. Come out on Thursday, March 23 to help recognize Representative Ledbetter who was recently named the House Majority Leader. Refreshments will be served.
Administrative Professionals Day Luncheon set for April 26 at TBEC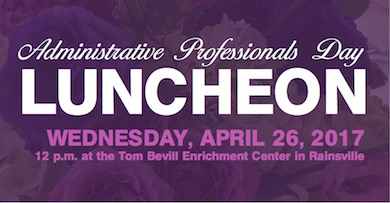 Join the Chamber for its annual Administrative Professionals Day Luncheon on Wednesday, April 26 at the TBEC. Enjoy a catered lunch, entertainment by Comedian Michelle Thomas, and very good odds of winning a door prize including one of the four $250 cash prizes. Seating is limited and tickets are on sale now for $20 each. DETAILS.
More events

March 15, 2017 (TODAY)
Free job readiness workshop
. 1 - 4:30 p.m. at the TBEC. Sponsored by the Fort Payne Career Center (256)845-2900. Four topics to be covered: resume preparedness, interview skills, dress for success, and WIOA resources.
March 16, 2017
Rainsville Arbor Day Tree Giveaway
. 4 p.m. at the Rainsville Public Works building. There will be white pine, Eastern red bud, white dogwood, scarlet oak and red maple while supplies last.
March 18, 2017
Run For Uganda 5K
. The fun run is slated for 8:30 a.m. on March 18 at the Rainsville Community Church (190 Mountain View Drive). Registration is $30 now through Thursday; $35 at the event. Links:
online registration
|
event on Facebook
.
March 18, 2017
Dixie Long Riders Mounted Shooters
. At the Northeast Alabama Agri-Business Center.
March 25, 2017
Roadside party / raffle to raise funds for Addicts 4 Christ ministry
. 1 to 4 p.m. at Liberty Tax Service, 129 Main Street (Alabama Hwy 35) East in Rainsville (256-304-6970). Enjoy free refreshments, live entertainment, and more. There will be a raffle and/or silent auction featuring new merchandise, gifts, etc with proceeds going to Addicts 4 Christ ministry.
April 1, 2017
Illuminate for Christ
. 6 p.m. at the DeKalb County Schools Coliseum. Sponsored by Fyffe High School Fellowship of Christian Athletes (FCA). Enjoy guest speakers and music. See
the flyer
.
April 7, 2017
ACTE Northeast Fair
. At the Agri-Business Center. Students in grades 3 to 12 from 26 northeast Alabama schools will compete in robotics, web site and app creation, computer programming and more. Volunteers are needed to serve as judges. For details and contact information, go to
actenortheast.org
.
April 8, 2017
March 4 the Mountain 2017
. 8 a.m. Hosted by
Addicts 4 Christ
and
Fire on the Mountain
(ministries). A group will be prayerfully marching from Rainsville Church of God to the college.
April 15, 2017
RTI's Community Easter Egg Hunt
. 1 p.m. at RTI in Rainsville. Download a
flyer
.
April 20-23 & 26 -30, 2017
Shrek The Musical
. NACC Theatre's spring production! Tickets are on sale now to patrons, and will go on sale to the general public on March 23. Call 256-638-4418 x 2218.
DETAILS
.
May 20, 2017
RTI Charity Mud Volleyball Tournament
. RTI's annual tournament starts at 9:30 a.m. on May 20 at RTI. Please pre-register. The cost is $10 per player for those registered by May 15. See the
flyer/registration form for details
. And, follow
RTI on Facebook
.
June 17, 2017
Rainsville Freedom 5K and 10K
. 8 a.m. at Broadway Baptist Church in Rainsville. The first 500 to register will receive a custom event shirt and an excellent SWAG bag.
DETAILS and ONLINE REGISTRATION
.
FOR MORE event listings, details and helpful links, visit the
EVENTS page at www.rainsvillealabama.com
.
Submit events by email to chamber@farmerstel.com.